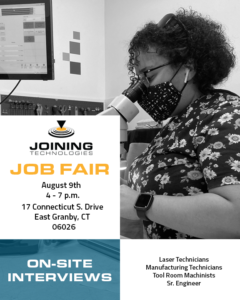 Come innovate with us! Joining Technologies is a leading North American provider of the latest in advanced laser welding, electron beam welding, supply chain management and machine shop services. We are guided by a powerful belief in teamwork and out-of-the-box thinking, and we constantly strive to provide our customers with the highest quality and best possible service.
We're looking for:
Laser Technicians
Manufacturing Technicians
Tool Room Machinists
Sr. Engineer
Our sister company, American Cladding Technologies, will also be interviewing candidates for the following positions:
Laser Cladding Technician
Weld Prep Specialist
We'll be doing on-site interviews for all positions from 4 – 7 p.m. on Monday, August 9th.
We hope to see you there! No RSVP required.
Can't make it? No worries! Submit your resume here.