When working with aerospace organizations, we provide expert welding, supply chain management, and machining. After discussing project specifications, our specialists create and execute a customized solution utilizing laser welding, electron beam welding, gas tungsten arc welding, resistance welding, supply chain management, custom machine work, or any combination required to bring your project to successful completion.
Guided by a powerful belief in teamwork and out-of-the-box thinking, Joining Technologies constantly strives to provide customers with the highest quality and best possible service.
Essentials for Aerospace Welding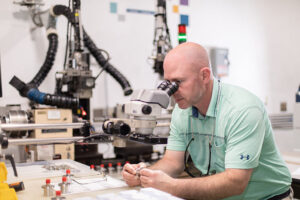 The unique pressures and challenges presented by breaching earth's atmosphere make effective aerospace welding essential. Consistent, reliable, and timely welding solutions are a requisite. After collaborating to learn more about a customer's specific needs, our team will help select the best weld technique, material, and technology for the customer's application.
Precision Aerospace Welding Services
We've added green laser welding (GLW) to our services!
We've been providing precision aerospace welding for over 25 years:
Examples of Precision Aerospace Laser Welding Work
Rotating components
Satellite arrays
Flight hardware
Turbine blades
AS9100
AWS D17.1
AMS 2681
ITAR
JCP Certified
NADCAP
PWA 16
ISO 9001
DFAR
NIST
Reasons our Customers Work With Us
Quality backed by experience, accreditations, and reviews.
Competitive pricing to build and nurture long-term partnerships.
Speed of delivery through solid project management.
Effective communication and collaboration throughout the process.
What our customers are saying:
Our Family of Brands | Manufacturing Solutions for Growth